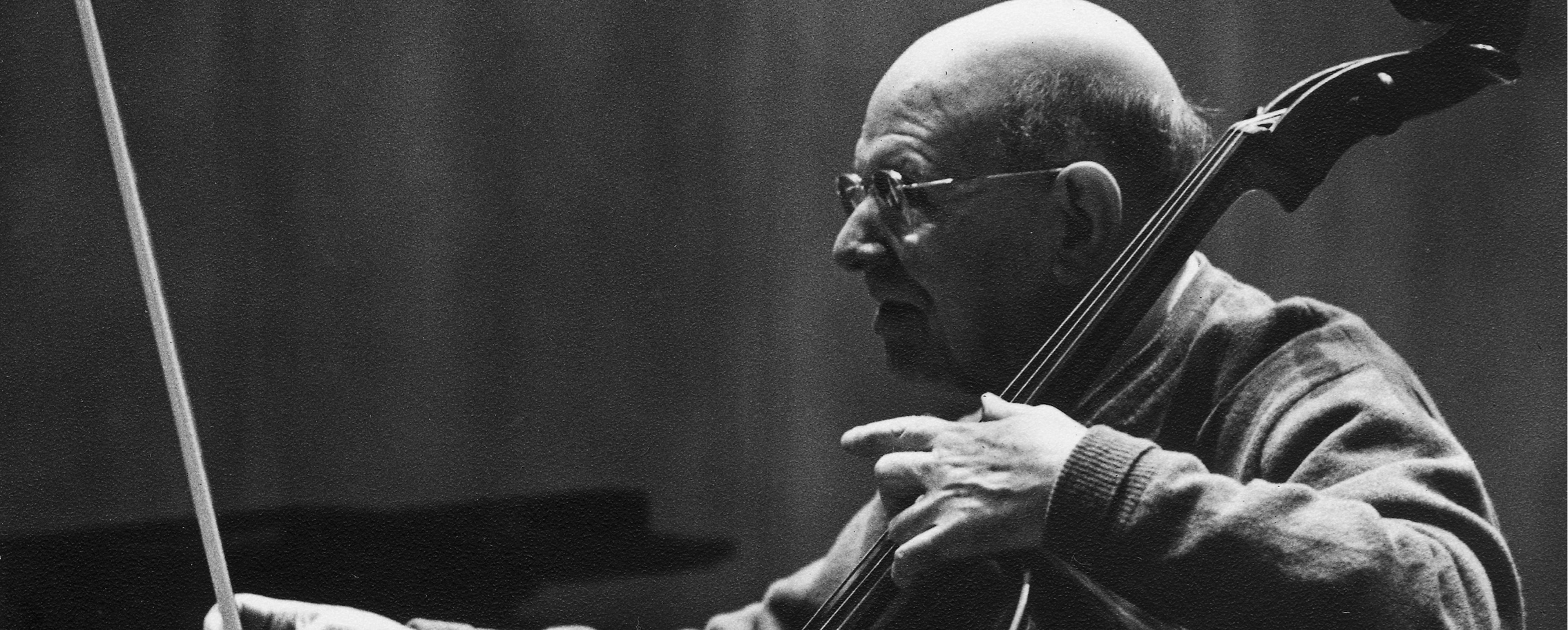 I am a man first, and an artist second. As a man, my first obligation is to fight for the welfare of mankind.
The Pau Casals Foundation is a private, non-profit organisation that was created by Pablo Casals and his wife Marta Casals in 1972 to preserve the legacy of Pablo Casals in Catalonia and to promote and disseminate knowledge of classical music.
Mission
Preserve and disseminate the heritage, artistic and humanitarian legacy of Pablo Casals, support young cellists and encourage projects that promote the values that Pablo Casals defended throughout his life on behalf of peace, human rights and social commitment.
Vision
Become an international and national institution of reference dedicated to the name and values of Pablo Casals through excellence, musical awareness, education and social cohesion.
Heritage legacy
The Pau Casals Museum and the Archive
We manage and conserve the Pau Casals Museum, a unique and historic space. We preserve and disseminate Pablo Casals' personal collection, a unique reference archive. We promote research into his life and work in order to make it known to society.
Musical legacy
Our
projects and activities
We promote projects and activities to support young cellists, bring music closer to the public and spread Pablo Casals' memory among younger generations. We also collaborate with other institutions with whom we share the same objectives and values, such as the Pau Casals International Music Festival of El Vendrell.
The social and educational legacy
Music and values for social transformation
We work on projects that promote education in values, the defence of peace, human rights and the contribution of music to society. We run the educational project Pau Casals Educa, which is designed to raise awareness among students of all ages of Pablo Casals' legacy in a cross-disciplinary way, through musical and emotional education.
An instrument for keeping Pablo Casals' legacy alive
Pablo Casals is one of the most widely known names in music and peace. The cello and the baton were his weapons, and his extraordinary music is a treasure that will stand the test of time.
Helping thousands of Spanish exiles in refugee camps in the south of France, his charity concerts for war victims, his international crusade against the nuclear arms race and his commitment to humanitarian initiatives marked him throughout an extraordinary lifetime of musical innovation and creation, as a cello player, conductor and composer.
Pablo Casals created this Foundation as a symbol of hope, because he believed that music can contribute to making a better world.
In 1972, we created the Pau Casals Foundation to maintain a link with his beloved land. The Foundation is the instrument for keeping his musical and humanistic legacy alive and spreading it through projects and activities open to all. I would like to encourage you to participate and collaborate, as well as to visit the Pau Casals Museum, a place with a special power that stirs the emotions and gives us the chance to enjoy a unique experience through his biography and his music.