Pablo Casals (El Vendrell, 1876 – Puerto Rico, 1973) was one of the greatest cellists in the 20th century. He was internationally recognised as one of the greatest performers and conductors of his time, and he continues to this day to be a household name. As a performer he brought innovative changes to cello playing and turned it into a great solo instrument. His influence was unique, but as Toscanini said, we cannot speak of him only as a great virtuoso of the cello, but we must speak of Pablo Casals as a MUSICIAN in all senses of the word.
Teaching formed an intrinsic part of his career as a musician. Casals taught at the Barcelona School of Music, at the Liceu Conservatory and at the École Normale de Musique in Paris. He held classes from his exile in Prades, and he gave masterclasses in Berkeley, Zermatt, Marlboro and Puerto Rico throughout his life. Some of his most renowned pupils and disciples were Gaspar Cassadó, Diran Alexanian, Maurice Eisenberg, Bernard Greenhouse, Zara Nelsova, Amaryllis Fleming, Raya Garbousova, Tackeishiro Hirai, Miklos Perenyi, among others.
Ever since Pablo Casals began his studies at the Barcelona Municipal School of Music at the age of eleven, with professor José García, he began to reflect on the technique of the cello. The innovative spirit and his search for greater sonority led him to give maximum flexibility to the right arm, thus facilitating the handling of the bow. Casals avoided locking the elbow joint or constantly using the full length of the bow as cellists were doing at the time, and instead allowed the movement to be unrestricted. He needed to feel free to give more variety to his sonority and thus to give full richness to his expressiveness. Likewise, he started working on his fingering and the position of the fingers of the left hand. He quickly realised that when the fingers of the left hand "plucked" a note as a pianist did, this effect produced a much clearer sound than the alternating sliding and holding that cellists usually did. This technical revolution, together with his way of understanding and interpreting music, made him one of the greatest performers of the 20th century and an example of inspiration for many generations of musicians.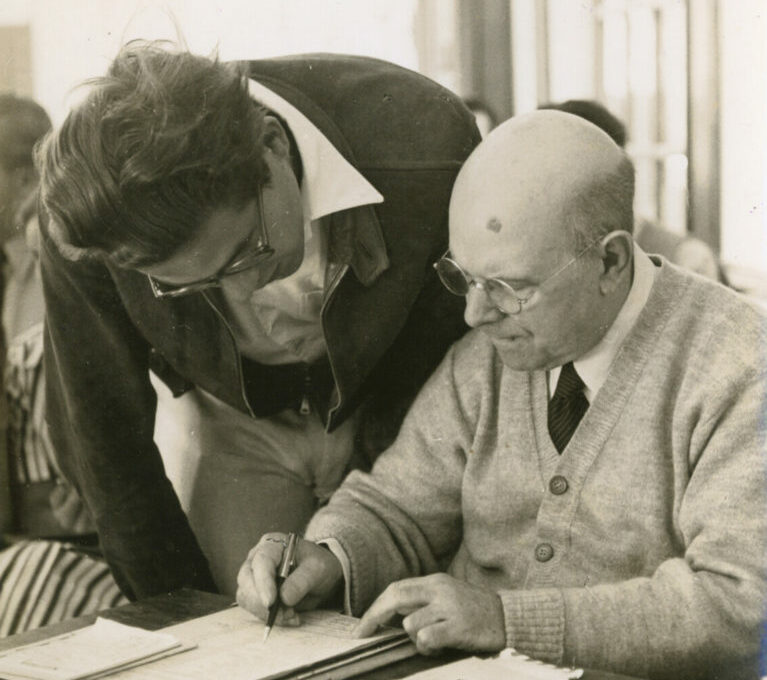 For Casals, the expression of the soul in interpretation was very important: "He who does not question himself and does not listen to the voice of his soul as an artist is on the wrong track. What counts is what we have inside us, and it is this that we have the duty to express." He also stated that a musician's number-one enemy was routine, and criticised the fact that under the pretext of seeking technical perfection many musicians fell into mechanised, stereotyped performance, moving away from the art of interpretation.
He transmitted all these elements of technique and interpretation to his students, but perhaps his best known quote, which he always said to his disciples and the musicians in the orchestra, was "freedom, but with order", which sums up very well his point of view and at the same time the respect and musical exigency he had for the interpretation of any work. Casals always made comparisons with nature to clarify this apparent contradiction. "Music must be able to match nature in fantasy, in variety, and in beauty, but always obeying laws that do not change. All the leaves of a tree look alike but it would be absurd to look for two leaves that are absolutely alike, in the same way all the musical fragments of a composition are unique."
Casals' sonority was at the service of the music he played and he did not like the cult of beauty for beauty's sake. He considered that a fast vibrato without variations could be monotonous and inexpressive. Casals said, "A strong vibrato in an energetic forte is excellent" but added "sonority without vibrato is also very beautiful, especially in a piano or pianissimo." This control of vibrato is probably one of the most important lessons he bequeathed to string players.
In addition to the students who had the opportunity to give lessons or attend a masterclass, Pablo Casals had many followers and was, and has been, an inspiration and reference for many musicians, as the violinist Isaac Stern attests in his memoirs: "The best image that comes to mind to describe Pablo Casals is a wall and a garden. Imagine that you suddenly find yourself in front of a wall and you don't know that behind it there is a magnificent garden. What Casals did was to open the gate to this garden. When we entered we discovered thousands of colours and smells that we didn't know existed. He revealed to us what you can achieve once you are inside the garden. To create our own colours and smells using the power of musical imagination is our responsibility."
As George Enesco said: "Casals is our MAESTRO and we are all his pupils."